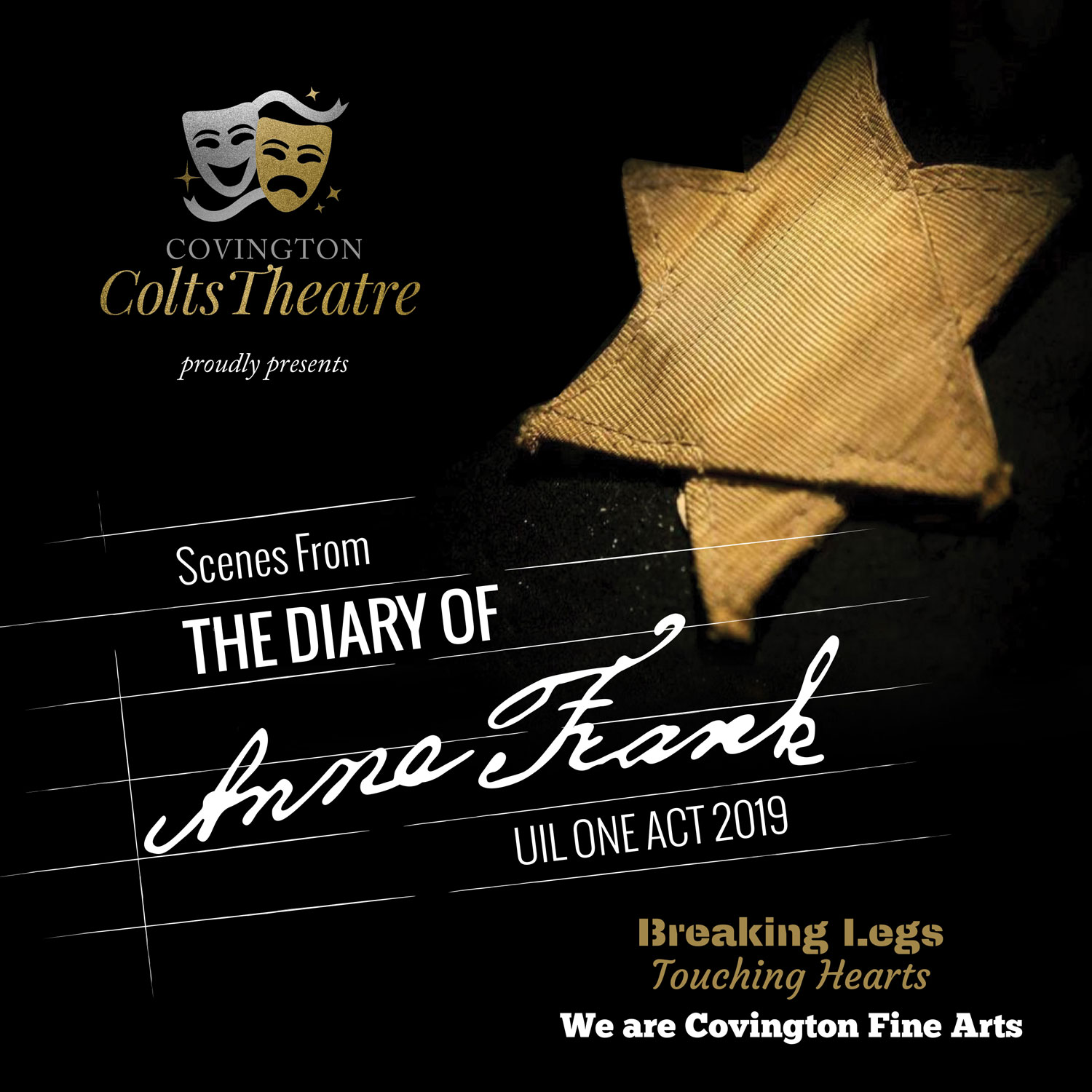 November 7th & 8th at 6 p.m.
A play by Frances Goodrich and Albert Hackett. Based upon "Anne Frank: The Diary of a Young Girl." Newly adapted by Wendy Kesslman. UIP OAP 2019
AWARDS WON
*Outstanding Technical Crew
*Best Technician- Sofia Fallis
*Honorable Mention All Star Cast- A.J. Lee
*Honorable Mention All Star Cast- Grace Montgomery
*All Star Cast- Ben Hackworth
*All Star Cast- Sumara KC
*All Star Cast- McKenna Armstrong
*All Star Cast- Maka Perry
*All Star Cast- Nikko Ramos
*Best Performer- Sana Brower
*Best Performer- Phoenix Muniz
First Place UIL One Act Play Winners!!
TICKETS

$5 Adults
$3 Students
---
---
Diary of Anne Frank Company
---
Cast
Anne Frank

Phoenix Muniz / Charlie Duhon*
Otto Frank

Benjamin Hackworth
Edith Frank

Sana Brower
Margot Frank

Sumara Kc / Tallulah Rickstrew*
Miep Gies

Grace Montgomery / Sophia Scott*
Peter Van Daan

AJ Lee / Nicholas Navarro*
Mr. Kraler

Dane Hastings
Mrs. Van Daan

McKenna Armstrong / Coral Suess*
Mr. Van Daan

Maka Perry
Mr. Dussel

Nikko Ramos
First Man

Zephan Mayeda
Second Man

Nicholas Navarro / AJ Lee*
Crew
Stage Manager

Bethany Cleveland
Light Board Technician

Sofia Fallis
Sound Technician

Connie Standifer
Stage Crew

Zeke Brewer (Crew Head)
Stage Crew

Shannell Floyd
Stage Crew

Falon Van Fossen
Stage Crew

Violet Wahrer
Stage Crew

Jade Duffield
Stage Crew

Emma Tanguy
---
Volunteers
Ms. Vallejo would like to thank the following:
Ms. Lim, Mr. Yanez, Mr. Jurgens, Mr. Deatherage, Mrs. Piper, Ms. Murillo and Mr. Hall for being flexible and sharing their students with me!
Ms. Choice, Mrs. Waters, and Mrs. Diaz-Eskew for all of their support!
Mrs. Belynda Montgomery for going above and beyond with all she does!
Mrs. Rebekah Nichols and Mrs. Aimee Blasé for their amazing marketing skills.
Mrs. Jennifer Armstrong and Mrs. Jennifer Fleming Prince for their amazing hair and makeup skills.
All of the parents who volunteered their time at the UIL One-Act Competition.
The Colts Parent Booster for their endless support and donations of props and costumes and time.
Akins Journey Theatre for the lending of their furniture and costumes.
The parents of the cast for their constant support!
The cast of Anne Frank for making my first production here at Covington a memorable one!
I'm so proud of all of you!
---