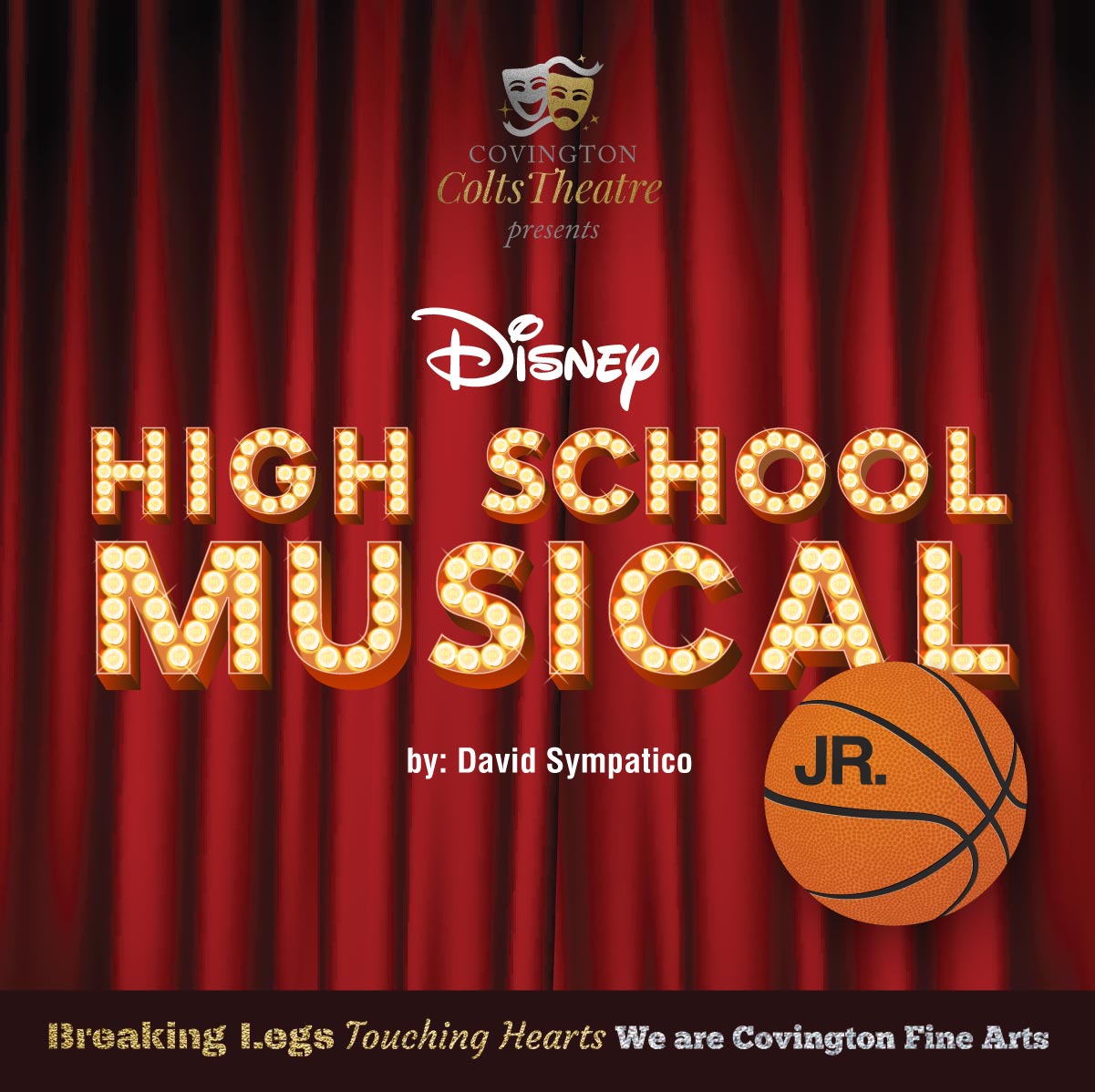 February 24, 25, 26
Disney Channel's smash hit movie musical comes to life on your stage in Disney's High School Musical JR. Now updated to the convenient binder version! Troy, Gabriella and the students of East High must deal with issues of love, friends and family while balancing their classes and extra curricular activities. The show's infectious, danceable songs are sure to engage performers and audiences alike.
It's the first day after winter break at East High. The Jocks, Brainiacs, Thespians and Skater Dudes all find their cliques. Basketball team captain and resident jock, Troy, discovers that the brainy Gabriella, a girl he met singing karaoke on his ski trip, has just enrolled at East High. The couple cause an upheaval when they decide to audition for the high school musical. Although many students resent the threat posed to the "status quo," Troy and Gabriella's alliance might just open the door for others to shine as well.
TICKETS

Online ticket sales have closed. Tickets will be available at the door.
Thursday, February 24
pre-show pep rally outside at 6 pm / show at 7 pm
Friday, February 25
pre-show pep rally outside at 6 pm / show at 7 pm
Saturday, February 26
pre-show pep rally outside at 1 pm / show at 2 pm
PLEASE NOTE: In the event of a district shutdown due to COVID-19, we will postpone the performances. All tickets purchased in advance will be honored at the later time.
---
---
High School Musical JR. Company
---
Cast
Gabriella Montez

Paityn Jones
Troy Bolton

Zach Halliday
Sharpay Evans

Syreeana Kc
Ryan Evans

Christian Lopez
Kelsi Nielsen

Hazel Hunter
Chad Danforth

Jonah Peyton
Zeke Baylor

Miles Bailey
Taylor McKessie

Elyse Garrison
Ms. Darbus

Hayley Curtis
Coach Bolton

Charlie Turner
Martha Cox

Mia Lawshae
Jack Scott

Harrison Blase
Ms. Tenny

Gillian Graham
Moderator

Tilley Wooten
Kratnoff

Amira Castilleja
Cyndra

Lauren Smith
James

Elliott Blum
Cathy

Phoebe Wagner
Susan

Sadie Peyton
Drum Major

Dash Glessner
Cheerleaders:

Greta Braafladt
Trinity Zurovetz
Savannah Haenning
Sarah White
Ensemble:

Eliza Brown
Ellie Cervantes
Naomi Ross
Lorelei Dement
Emma Cantu
Maggie Hooten
Molly Forkner
Pia Sosa
Violet Martinez
Darian Shepherd
Franco Jackson
Naomi Hinrichs
Willow Fischer
Franti Romero
Crew
Stage Manager

Sascha Garrison
Assistant Director/Sound Technician

Aubrey Smith
Light Technician

Noah Morris
Stage Crew Head

Jeremiah Aziz
Props

Cleo Miller
Costumes

Gillian Walters & Toby Torres
---